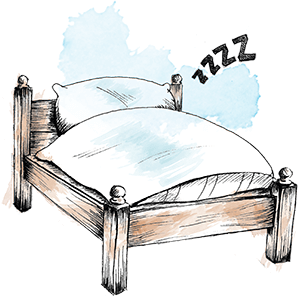 Unique – South German – Hospitable
Get a good night's rest in one of our cozy South German feel-good rooms with their rustic wood trim, then have breakfast in the best restaurant in town.
In Reussenstein every day is one of heart-warming joy. Whether you are on a business trip or have a private appointment, whether you just want to take it easy or are really bristling with energy. Treat yourself to a delicious meal and a good bottle of wine in our restaurant, spend some time in the sauna area and our own indoor barefoot park, visit our hunting lodge room with its own shooting range with screen technology, or just raid our pillowbar and finish up on all the sleep you've been missing out on.
So now you've had your fill, feel happy and relaxed? Take a nice long walk in our 1200-acre forest or go on a tour on one of our e-bikes. Enjoy your stay in our cozy, family-style hotel…
Find out here what leisure activities there are around our hotel.
To make it easier for you to find your way around our house and the surrounding area, we have put together a small service guide for you on the following pages.
It's like I'm
coming home.
I cannot put into words
how wonderful this hotel is…
In words not to describe –
must be melted on the tongue…
Spaetzle Drive, great idea
and the taste just top…
Beautiful hotel
with a feel-good character.
This should be first choice
for accommodations when in the area.
You notice that here with
is cooked with love.
This is how
"Hotel" must be.
The Reussenstein is a jewel for us
in the service desert of Germany.
Permanently reliable highest
culinary quality.
The hotel offers the perfect
"I-am-welcome-and-at-home feeling."
For a hotel in this price range
this is not to be topped.