Your feel-good hotel in Boeblingen near Stuttgart
Extending a heartfelt welcome to you from our family here at "Reussenstein"!
If there is one restaurant and hotel that can honestly claim to be a true "home away from home", it's Reussenstein. Guests travelling alone, couples, business travellers or families can not only find both a wide selection of suitable rooms and apartments – all of them designed and decorated in delightful detail, in keeping with South German tradition – and also the extensive culinary care and attention offered by TV chef Timo Böckle and his team of expert cooks. Reussenstein is the most traditional hotel and gastronomy business in Boeblingen, our hometown, and its has been continuously operated by us here in the Böckle family for over 70 years. Although near downtown Boeblingen, Reussenstein is still quiet and conveniently accessible by public transportation and close to our lakes here in Boeblingen. The Stuttgart airport and exhibition center can be reached easily by Motorway A81, or just jump on a bike and ride over to Stuttgart, our state capital. The first-ever cycle expressway in the state passes right through our nearby forest. Nice to see you here…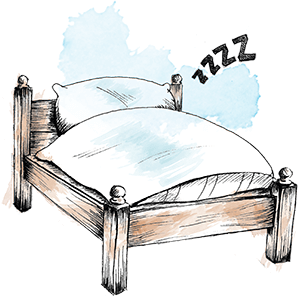 Unique – South German – Hospitable
Get a good night's rest in one of our cozy South German feel-good rooms with their rustic wood trim, then have breakfast in the best restaurant in town.
In Reussenstein every day is one of heart-warming joy. Whether you are on a business trip or have a private appointment, whether you just want to take it easy or are really bristling with energy. Treat yourself to a delicious meal and a good bottle of wine in our restaurant, spend some time in the sauna area and our own indoor barefoot park, visit our hunting lodge room with its own shooting range with screen technology, or just raid our pillowbar and finish up on all the sleep you've been missing out on.
So now you've had your fill, feel happy and relaxed? Take a nice long walk in our 1200-acre forest or go on a tour on one of our e-bikes. Enjoy your stay in our cozy, family-style hotel…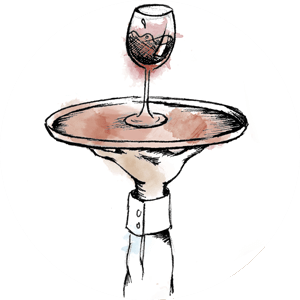 Unique – South German – Hospitable
Treat yourself to a delicious South German meal
Welcome to the best restaurant in town – you'll be shown to your table by one of our gracious waiters. The pleasant, homelike atmosphere of our rooms will let you forget all about your daily routine right away – the time has come to experience the magic of Timo Böckle´s domestic cuisine.
For decades it has been our goal to meet our guests' every wish with the best of local South German products. All the ingredients of our 100 % local menu have been produced, processed or refined right here in our area.
Nice to see you here, nice to welcome you warmly to our Reussenstein family restaurant…
Tuesday through Saturday 5:00 pm to 11:00 pm.
Coffee groups & Funeral services upon request.
Please note the current Corona Ordinance of the City of Böblingen for your reservations.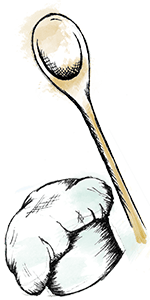 Cook together, dine together – a delicious learning experience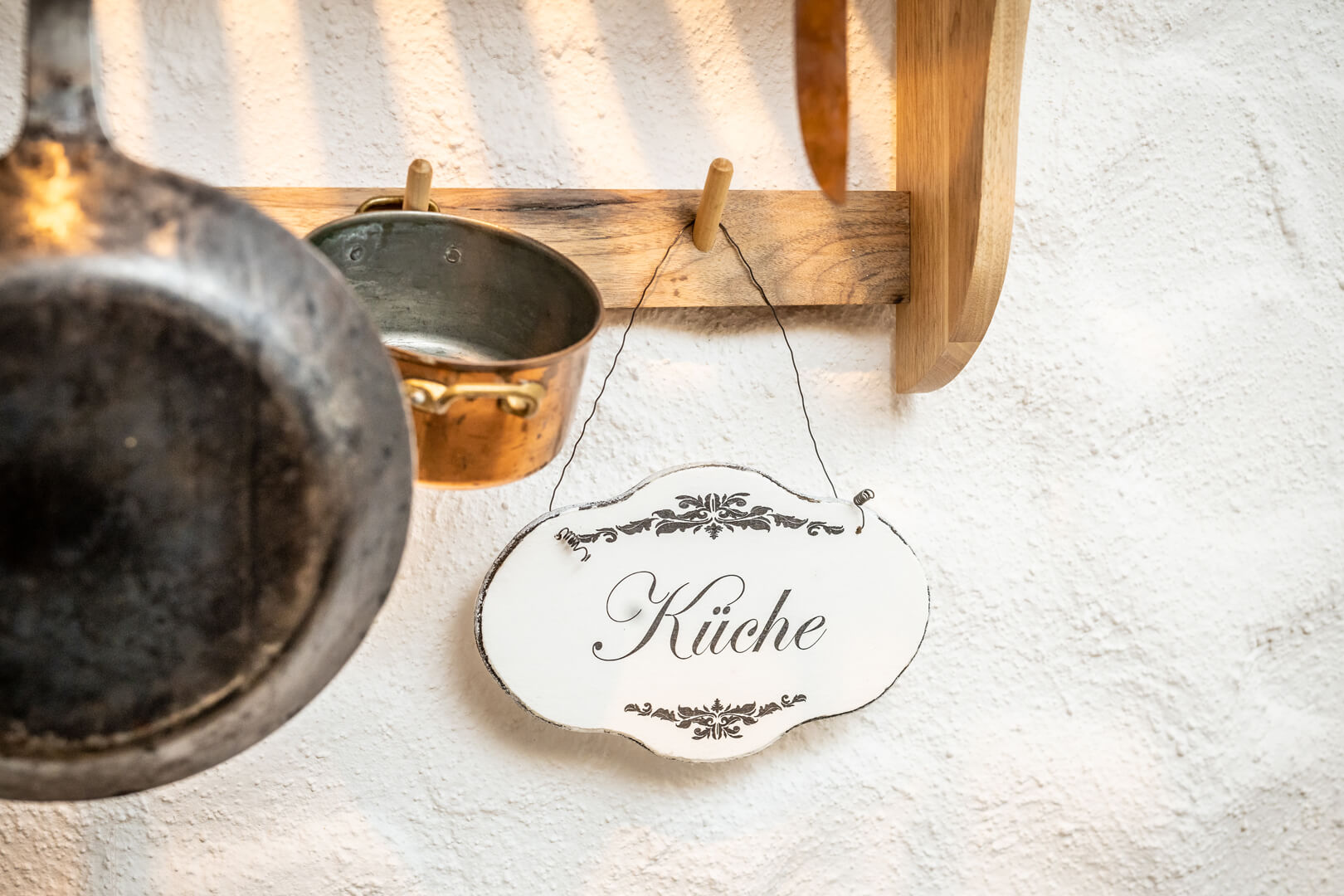 Unfortunately, there are no cooking classes at the moment.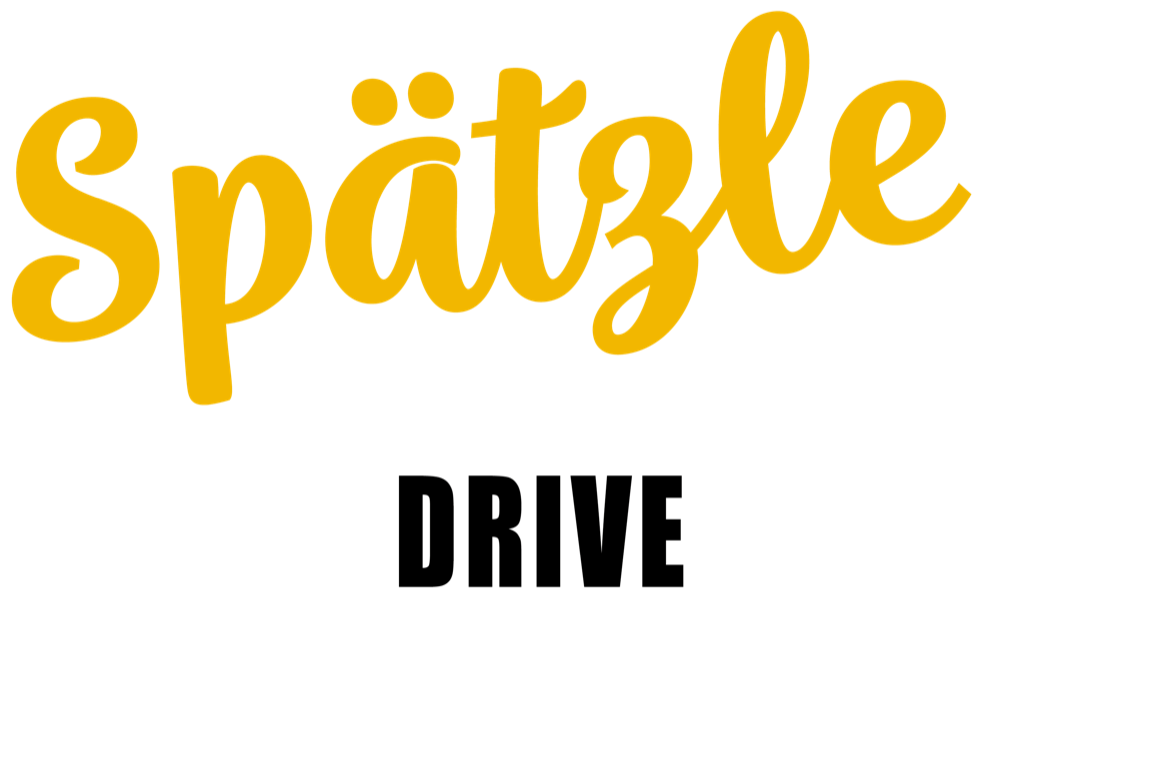 This is the first spaetzle drive in the world!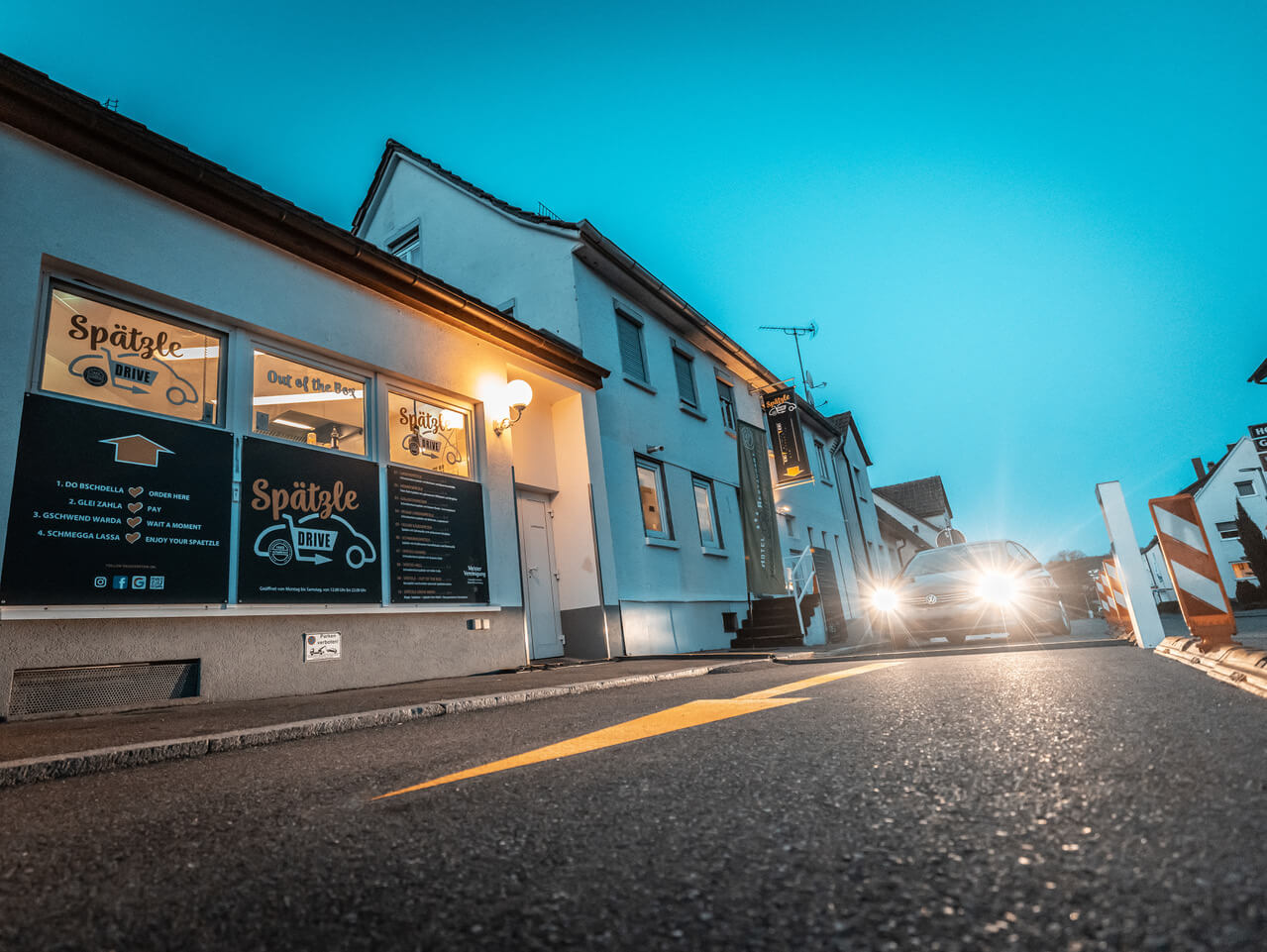 Opening hours: 11:30 noon to 9 pm Monday to Saturday open continuously without pre-ordering.
Pre-ordering of dishes by phone are unfortunately not possible – please order directly in the drive-in!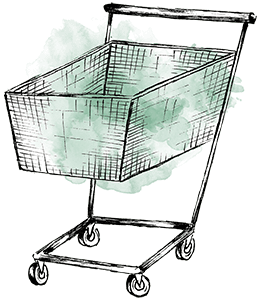 MOM&POP SHOP
A LITTLE SOMETHING FOR A VERY SPECIAL PERSON?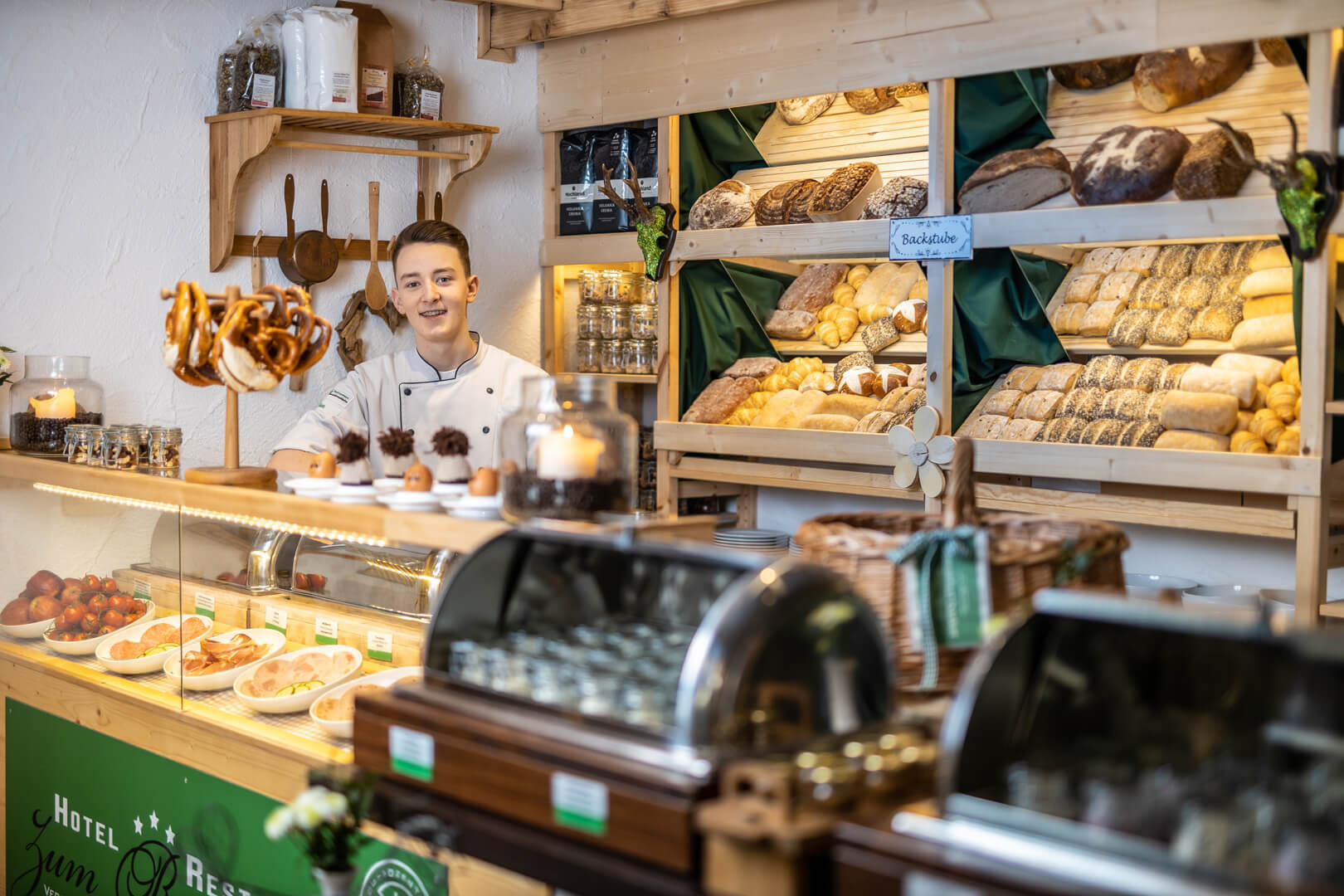 The MOM&POP SHOP is currently closed. You can place orders via our Hotline: +49 (0) 7031 / 6600-60.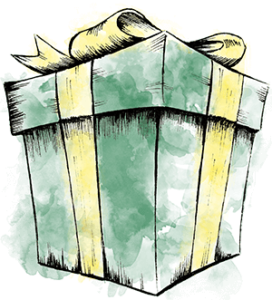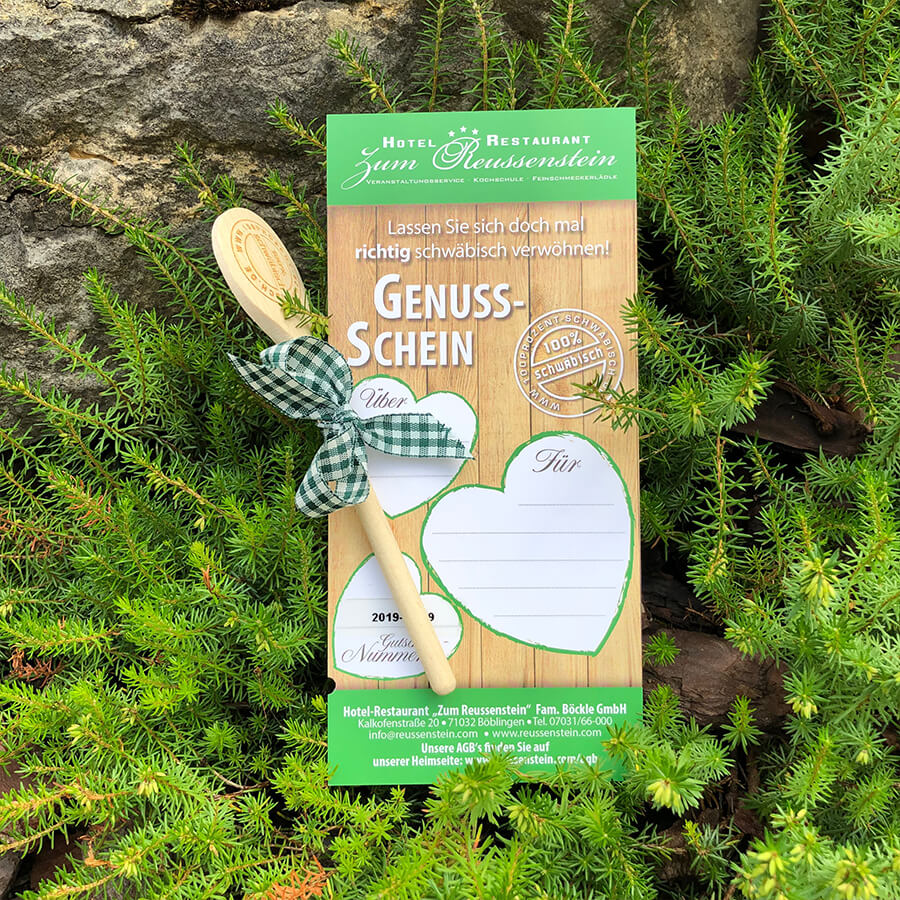 Our vouchers are universally redeemable and can be used in our restaurant, towards accommodation, for cooking courses, in our Mom&Pop Shop and for the Spätzle Noodle Drive-In.
All Reussenstein vouchers are beautifully designed and come with a wooden, "100% South German" cooking spoon. We would be happy to combine your spoon voucher with a nice gift packet from our shop. Vouchers can be picked up at our hotel reception area during our regular opening times.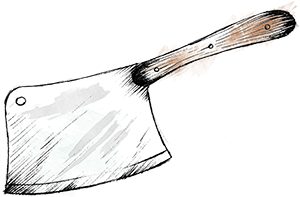 Griaß godd midnander und herzlich willkommen auf meiner Heimseite
Timo Böckle, son of a Swabian butcher family, completed his apprenticeship as a chef in Eltingen. After passing the final exam, he did his military service – first in Stetten, then in the Theodor-Heuss-Kaserne in Bad Cannstatt. In the latter, he was the shift leader of the officers' mess and was responsible for catering for the Bundeswehr´s sports promotion group. He was responsible for the implementation of military and civil events in Stuttgart. After completing his military service, he moved to the Black Forest. There he worked as entremetier in the famous Hotel Bareiss in Baiersbronn.
His first engagement outside of Germany took him to the cruise ship MS Europa, on which he was employed as sous chef in the gourmet restaurants Venezia and Asia (today Restaurant Global) during the maiden voyage, and later on her first trip around the world. On the high seas, he also met his future boss,the famous celebrity tv chef Johann Lafer.
After his return he worked as Chef Poissonnier in the gourmet restaurant Le Val d'Or, which was then awarded 2 stars in the Michelin Guide, at Johann Lafers Stromburg in Stromberg. In Lafer's cooking school and its television studio in Guldental, he gained his first experience in conducting cooking courses and preparing for various television programs and book productions.
This was followed by another stay abroad and a job in the Pacific restaurant of the Carlton Hotel in New Zealand. He took the opportunity and at the same time worked on stage in the Katsura restaurant, where he studied Japanese cuisine and teppanyaki.
Back in Germany, at the age of 25, Böckle successfully passed the master chef examination at the renowned hotel management school in Heidelberg. Finally, due to a serious illness of his father Wolfgang Böckle, he joined the family business Hotel-Restaurant "Reussenstein" in Böblingen, founded in 1953 by grandfather Walter Böckle. Since 2005 Timo Böckle has been in the third generation – together with his sister Sandra – managing director and owner of the Böckle GmbH family. In addition to the hotel and restaurant, this also includes a cooking school, a spaetzle drive-thru, the trade in game from the region and a gourmet shop with regional gifts.
Timo Böckle appeared for the first time as a TV chef immediately after taking over his parents' business. Since 2005 he has been making the show "coffee or tea" on the Südwestfunk broadcasting(national television)on a regular basis. As a result, he was present in various programs: "Böckle on Tour", "SWR Spontankochen", "kitchen classics", "SWR Saturday evening show" and "Lecker hoch Drei" on ARD Digital. To this day, Böckle is at the stove with "coffee or tea" on the first Wednesday of the month in Baden-Baden. He is repeatedly used as a cook in front of the camera at various events and special programs on SWR television such as the "Pumpkin World Cup" in the Blooming Baroque, at the "Buga Heilbronn" or at the "SWR Summer Festival". "Koch ein!",The SWR's on-demand video cookbook with Timo Böckle, has been running since 2020. This production is broadcast on YouTube, on Facebook and in the ARD media library.